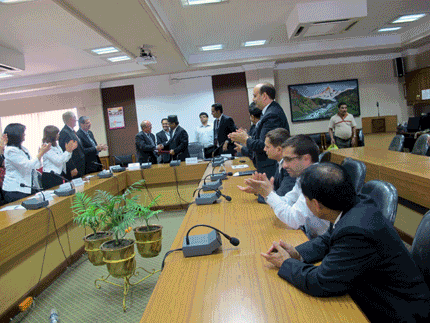 The Government of Norway and Switzerland along UNICEF, UN Women and UNFPA have signed Joint Financing Arrangement of LGCDP – II with the Government of Nepal on 26 September 2013. Mr. Shanta Raj Subedi, Secretary, Ministry of Finance signed the JFA on behalf of the Government of Nepal while the Head of the Mission signed on behalf of their respective governments.

Participants of the 'orientation program on blended guideline 2067' that begun in Nepalgunj on February 6. A total of 85 participants including Local Development Officers, Account Officers, District Technical Officers/DDCs and District Facilitators/LGCDP from fifteen districts and six municipalities are participating in the programme. MLD Joint Secretary Reshmi Raj Pandey facilitated the session.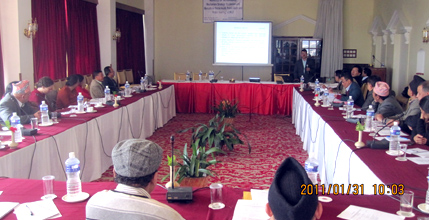 Participants of the national workshop on 'Accountability Mechanism Strategy, Guidelines and Manual on Social Audit, Public Audit and Public Hearing for Local Bodies' organized by Monitoring and Evaluation Section/MLD on January 31 at Hotel Himayaya, Lalitpur. The workshop that brought together a total of 41 persons was attended by MLD Secretary Krishna Gyanwali, Joint Secretary Dinesh Thapaliya, Under Secretaries, DPs and LGCDP Specialists.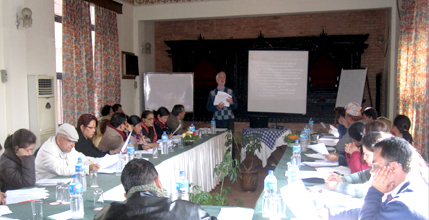 Finn Lauritsen, Senior Technical Expert of Quality Assurance Mechanism (QAM) presenting plan of action during thematic group meeting of Output 1 and 2 organized by LGCDP on January 4 at Greenwich Hotel, Lalitpur.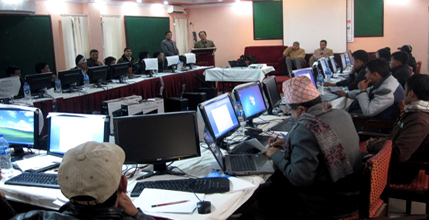 Participants of the four-days-long training on 'District Poverty Monitoring and Analysis System(DPMAS)' organized by NPC and MLD in coordination with LGCDP at Swagatam Hotel in Biratnagar from 2 to 5 January. A total of 24 participants including DDC's information officers, program officers and computer operators from eastern region participated in the training. The training was facilitated by NPC joint secretary Dhurba Prasad Dahal and MLD Section officer Sanubabu Adhikari. MLD under Secretary Dhan Bahadur Shrestha attended the programme as chief guest.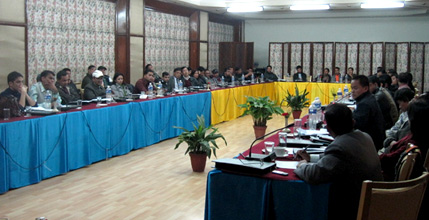 Journalists participating in a national workshop on "Mass Media's Role in Strengthening Local Governance" organized by LGCDP/MLD on December 15 at Hotel Himalaya, Lalitpur. Media educator Rama Krishna Regmee presented a paper on 'Energizing local development through newsroom', while journalist Tirtha Koirala made his presentation on workshop theme. A total of 60 journalists participated in the workshop. The workshop attended by MLD secretary Kirshna Gyanwali, Joint Secretaries Somlal Subedi & Dinesh Thapalia, IPDS chief Indu Ghimire, FNJ president Dharmendra Jha and LGCDP specialists was coordinated by IEC Expert Laxman Datt Pant.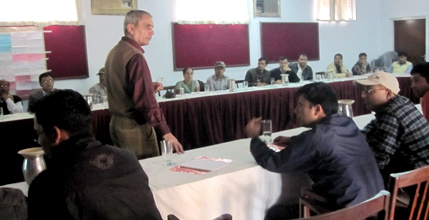 Participants of an orientation programme on Minimum Condition and Performance Measure (MCPM) organized in Biratnagar from 20 to 23 December. Under- Secretary of MLD Badri Ghimire and LBFC team facilitated the programme. A total of 60 participants from 15 DDCs and 14 municipalities of eastern region participated in the programme.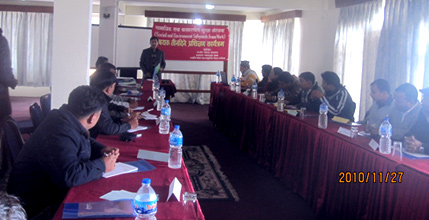 Niranjan Shrestha, Environment Specialist of LGCDP facilitating the participants of three days long training programme on 'Social and Environmental Safeguards Framework' organized by Environment Management Section/MLD/LGCDP from November 27 to 29 at Hotel Chautari, Nagarkot. A total of 26 district and municipal facilitators and environmental focal persons from nine districts and ten municipalities of Central Region participated in the training.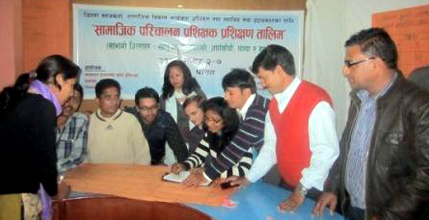 Participants of the "ToT on Social Mobilization Training" organized at Hotel Gaurishankar, Palpa from 18 to 23 November. The event that brought together a total of 31 participants from five districts was observed by LDO of Palpa, Cluster Coordinator, Monitoring and Reporting Officer, and Social Mobilization Coordinator of Cluster Coordination Unit, Pokhara.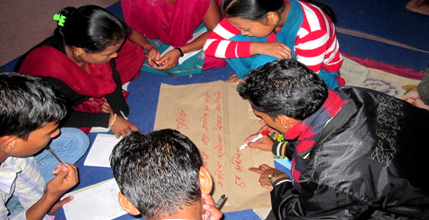 Social mobilizers discussing on functioning of 'Public Awareness Center' during three days long Training organized from October 27-29 in Dailekh district. The training was facilitated by seven trainers of Local Service Provider (LSP), who participated in ToT last month in Surkhet. The training saw a total of 24 participants from 24 VDCs of the district and was observed by Social Mobilization Coordinator and Monitoring Officer of the Nepalgunj Cluster.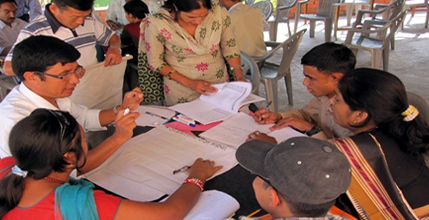 Group discussion during a five days long ToT on 'village development planning, budget formulation and project implementation' that was concluded on 29 October. The ToT organized by COMAT / NSP for LGCDP at hotel Eastern Star of Biratnagar saw a total of 32 participants including eight women from different districts of Eastern region. Manoj Bhattrai and Laxmi Prasad Niraula facilitated the training, while CD specialist Jiwan Dhital highlighted the purpose of LGCDP program in the current scenario.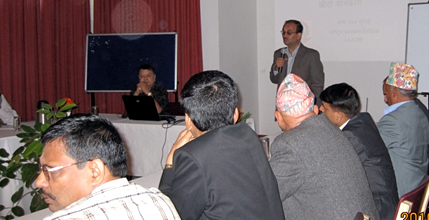 Som Lal Subedi, MLD Joint- Secretary and National Programme Director of LGCDP introducing about LGCDP and Social Mobilization Programme during an interaction on Social Mobilization organized by MLD/LGCDP from October 24-25 at Hotel Summit, Lalitpur. The programme was attended by Local Development Officers (LDOs) and District Technical Officers (DTOs) from 51 districts of Eastern, Western and Central regions..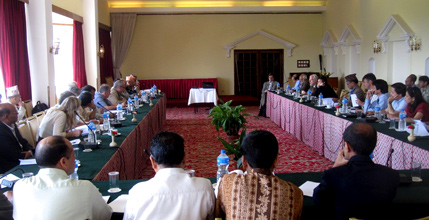 Participants of the meeting 'Preliminary Findings and Recommendations: Mid-Term Review of LGCDP Debriefing ' organized by LGCDP/MLD on October 1 at Himalaya Hotel, Lalitpur. Gabriele Ferrazzi, team leader of the review presented key findings and recommendations for LGCDP. The programme chaired by MLD secretary Krishna Gyanwali was attended by joint secretaries, under secretaries, LGCDP specialists and donor agencies.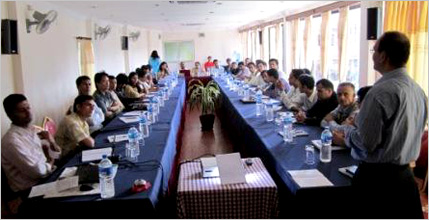 Participants of the "Consultative Meeting with and Orientation Program to DFs/ADFs/AMFs" organized by LGCDP/Pokhara Cluster from 20-22 September at Hotel Peninsula, Pokhara. The event that brought together a total of 49 participants was also attended by MLD Joint-Secretary Som Lal Subedi. The first session of the event was observed by MTR (Mid-term Review) Team.



Participants of the workshop on 'the results of baseline survey of households, community organizations, local bodies and the Ministry of Local Development' organized by LGCDP/MLD on September 6 at Hotel Summit, Lalitpur. The baseline survey was carried out by Unity Service Cooperation (USC) for the Local Governance and Community Development Programme (LGCDP). The workshop that brought together a total of 47 participants was attended by MLD Secretary Krishna Gyawali, Joint Secretary Dinesh Kumar Thapalia, Under-secretaries, LGCDP Specialists, Survey Team and the Representatives of the donor organizations including GTZ, UNFPA, CIDA and DANIDA.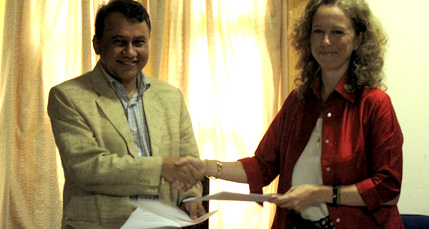 Krishna Gyawali (L), Secretary at the Ministry of Local Development (MLD) exchanges documents with Dominique Hyde, Officer in Charge of WFP Nepal after signing the agreement on providing US$35.8 million to the United Nations World Food Programme (WFP) to continue its fight against hunger and undernutrition.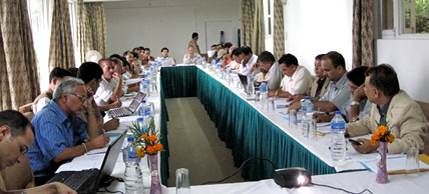 Participants of the workshop -'preparing guideless on block grant for local bodies' organized by the Ministry of Local Development. The two days workshop organized from August 6-7 in Dhulikhel brought together a total of 45 representatives including local development officers, executive heads, VDC secretaries, MoLD secretary and joint secretaries, division chiefs and LGCDP experts.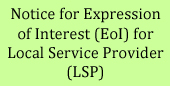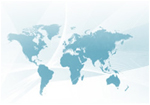 Available maps both reference and thematic composed for various purposes of the project..
Read More »